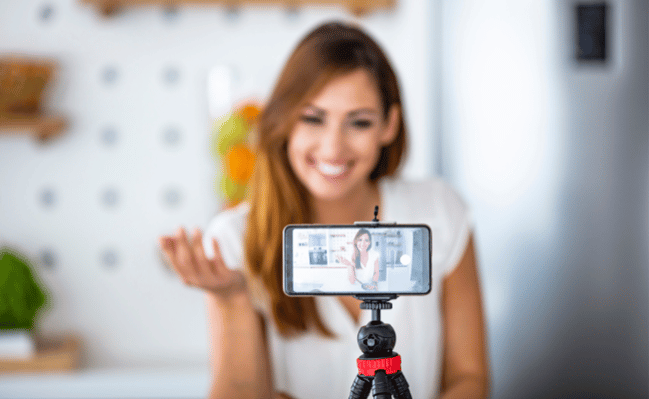 From rising YouTube stars to Instagram models, to TikTok trendsetters, social media influencers drive successful marketing and PR campaigns. With the power to captivate audiences, amplify brand messages, and send engagement rates skyrocketing, these influencers shape brand perceptions in ways one can only dream when using traditional methods. Get ready to harness the potential of this dynamic marketing approach and take your company to new heights.
Here are 6 ways working with influencers can boost your business:

1. Influencers Boost Your Brand Awareness
Influencers amass loyal and engaged followings that span platforms. Large, dedicated, and ever-growing followers trust their recommendations, thinking of them more like peers than another ad. This exposure is unparalleled, especially when compared to traditional marketing methods. For presentation technology company AVer's KOL campaign, it had a very specific audience in mind – teachers who teach remotely. SKC reached out to influential micro-blogger ms.campbell.teach to leverage her active and engaged followers, exactly those AVer wanted to reach. That campaign generated over 52,000 impressions, blowing original expectations out of the water. That's a lot of teachers who now know the AVer brand and how its products can help them teach remotely!
2. Influencers Boost Your Brand Authority
Consumers are increasingly skeptical of traditional advertising. Influencer marketing offers a breath of fresh air. Influencers are seen as authentic, relatable, and trustworthy sources and often build strong relationships with their followers. Collaborating with them transfers that trust and credibility to your brand. Gamers trust other gamers, which is why ASUS put their ROG phone in the hands of Twitch streamer Anthony Chenn for a live stress test. The four-hour live demo left the audience impressed and many excited enough to get the product for themselves.
3. Influencers Boost Your Sales and Conversions
What's a key goal for any company? It's simple, make a sale. Influencers are masters at doing just that. Whether it's product demonstrations, reviews, or exclusive discount codes, influencers can encourage their followers to act and make a purchase. For example, look at the Dunkin' Donuts campaign featuring TikTok star Charli D'Amelio! Taking advantage of Charli's impressive 151.2M followers, Dunkin' Donuts started a partnership where the TikToker starts her day with her signature "The Charli" drink. Her followers, wanting to be like their idol, then flocked to Dunkin' triggering a 57% increase in app downloads and hundreds of thousands of drinks sold.
4. Influencers Boost Your Authentic and Engaging Content
Influencers are content creators at heart. They open the door to a treasure trove of creative and engaging content that resonates with your target audience. This authenticity fosters a deeper connection, making your brand more relatable and memorable. When ACER teamed up with Brad Cowboy to promote their new creator laptop, the youtuber made a video called "How to Cheat at Art." The focus wasn't specifically on the product, but on Brad's ability to "cheat at art" using the product. This ended up highlighting the product in a much more meaningful and innovative way than just a straightforward review.
5. Influencers Builds Buzz Around Special Events
A special event coming up? Influencers generate buzz like no other! They can showcase your offerings in an exciting and enticing manner, creating anticipation and excitement among their followers. Influencers have become ubiquitous at promotional events. Like a tree falling in the forest, is there any noise around an event without an influencer to witness it? Mattel used influencers to great effect for The Barbie Movie. Multiple influencers encouraged their audiences to wear pink to movie theatres and hold parties celebrating the iconic doll. The community exploded, with many influencers making their own content without prompting since it was so viral! The results? Barbie surpassed box office expectations.
6. Influencers Boost Your Brand Communities
Influencers are catalysts for forming vibrant communities around your brand. Their followers come together to discuss, engage, and connect. By fostering these communities, your brand transforms from a mere product or service into a shared identity and communities that draw your audiences together. In 2022, SKC's client Taiwan Excellence and Predator (part of ACER and a Taiwan Excellence award winner) partnered with Twitch Streamer BTMC to promote the award-winning Gaming Utility Backpack via a livestream at the pop-culture convention Anime Expo. BTMC's online and offline communities flocked to him as he walked the floor and showed off the product. The Backpack wasn't just a product, it was an essential tool for gamers to enjoy the event!
Influencer marketing can be incredibly beneficial for any company at any time. From elevating brand awareness and credibility to driving sales and conversions, influencers offer a multifaceted approach to boosting your business. If you haven't tried it yet, you're missing out.
Not sure where to begin with your influencer campaign? SKC is here and ready to help. Click on button below to schedule a complimentary consultation with us!