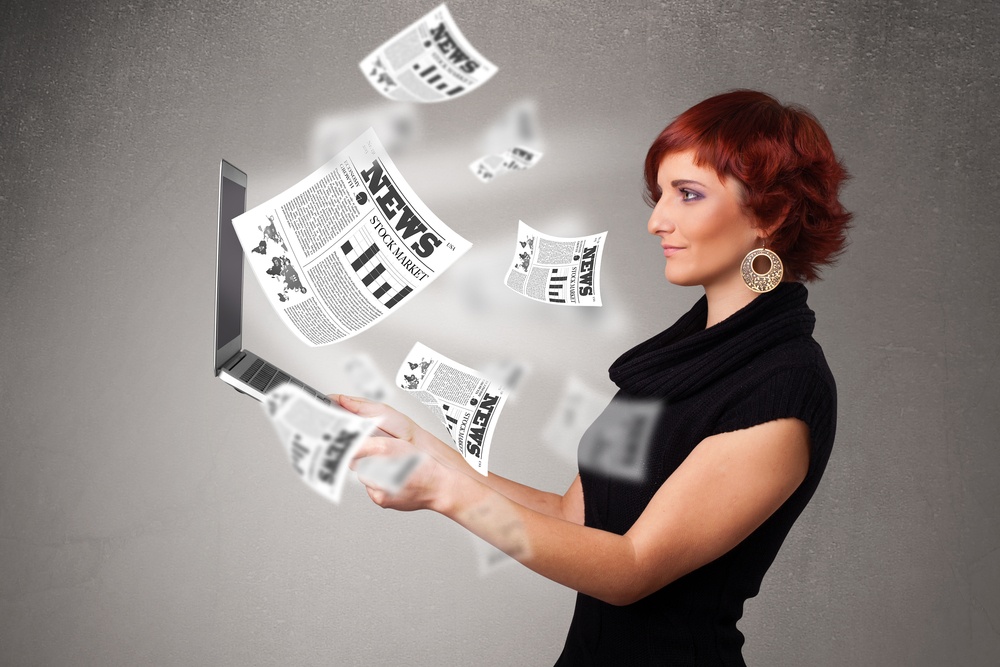 "Sorry, that's not news." Have you ever stumbled when a journalist tells you what you have to offer isn't newsworthy enough? You gulp. Here you are, with an exciting piece of news or scintillating insight, ready to strut your stuff, but they decide "it's not newsworthy" and don't give you a clue on what makes them tick.
Well, we can't generalize for all media, but in our many years of working with hundreds, if not thousands of them, we have developed a good sense of the types of news and information that companies can create and package to pique the media's interest, earn their trust, and get written up in their news stories.
Here are 8 tips for creating newsworthy content:
1. Dazzle with Facts & Figures
Journalists love hard data. And that's a fact! Shining the spotlight on facts and figures, preferably with announcements about reports that shed light on industry trends, can entice a reporter to write about your organization as part of a larger trend story or even lead them to creating news just on your content. Survey data works great. When ACUHO-I's Annual State of ResNet Report was published earlier this year, media outlets picked up the story based on the strength of the numbers and infographic provided. One outlet, Campus Technology, even used the report in not one, but two articles, drawing from various newsy aspects of the report to cover multiple angles.
2. Location, Location, Location
Readers like to know what is happening in their community, so journalists cater to those preferences by covering events and companies that are close in proximity. Of course, there are layers to regions: cities, states, countries. For international companies, announcements of expansion into new territories, like virtual reality company TPCast opening in the US drew the attention of media outlets excited about what their US foray meant for the VR industry and VR users.
3. Tie Your News to Current News
Hooking into current news is a surefire way of creating newsworthy content. Addressing not only industry trends but cultural ones make it so that journalists can include your organization in larger stories. For instance, when a trade war between China and the US began dominating the news cycle, Silicon Dragon's timely annual conference in Pasadena addressed how the trade war affected the entertainment and technology industries. Reporters jumped at the chance to interview industry insiders, boosting the attendance and reach of the conference, generating a multitude of online, print and broadcast stories.
4. Be the New Kid on the Block
New products, new technology, new company! Breaking news on something brand new from your company can make news. The world keeps turning and journalists want something novel to write about. Introduce something new into the world, like uSens' revolutionary hand tracking for augmented reality for smartphones. For the first time, users can grab virtual objects with their hands. uSens technology became synonymous with this new solution, so much so that it was even mentioned in articles about their competitors.
5. Stake Your Claim
Are you the first, best, fastest, largest player in your industry? Let everyone know! If you can stake a claim on a strong differentiator about your product, leverage that adjective in your pitch. Journalists love to catch a scoop about companies at the top of their game, like ROOBO. When the robotics company debuted the first intelligent pet robot to the world, outlets like TechCrunch and CNBC jumped at the chance to showcase it. Stressing the word "first" attracted those outlets, who might otherwise have passed on a young startup.
6. Celebrity Closeups
What do Jessica Alba and Elon Musk have in common? They're both star entrepreneurs whose star power propels their companies (The Honest Company and Tesla) into the limelight. Trading on your CEO's celebrity credentials is a great way to showcase how newsworthy your company is. The name gets you in the door, so you can expand on why you belong in the room. Even if your CEO or founder isn't a "celebrity" in the traditional sense of the word, having a track record as a serial entrepreneur, executive, or investor at successful companies provides great fodder and credibility in the eyes of the media.
7. Proud to be an Underdog
We must never forget that people love a good story, and the underdog story is a favorite. If you don't have a big name propelling you into the spotlight, use what you do have. Be the David to the tech Goliaths, like TrustGo did in the crowded mobile security market. They were a fledgling startup, but by trusting in the strength of their message of taking on larger companies and problems, TrustGo gained tremendous positive press coverage!
8. Make an Impact
One question to ask to determine if your news is newsworthy, is, "Who and how many people does it affect?" The more lives your content touches in your world, the more likely it will end up published as news. When Apogee CTO Rajiv Shenoy spoke about how IoT devices were starting to change college campuses, Business Officer listened and used his insights for their 2018 July/August cover page story. His expertise was considered newsworthy due to how significant it was to their readers and the larger tapestry of strategic campus technology. TPCast also makes a huge impact as virtual reality headset users are now finally able to freely roam without tripping over wires. Such a breakthrough guaranteed them media and industry attention and led to coveted coverage in top-tier tech publications like TechCrunch.
Now that you've seen how other companies make news, it's time for you to get out there and make some noise too! SKC has created a simple checklist for you to reference as you develop your own newsworthy content. Here's the link.