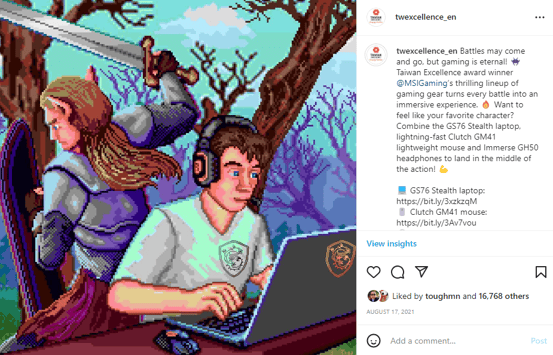 Have you ever wondered how a company turned their one-star reviews into a five-star campaign? Or how another rose above the pandemic to help those in need? And how do others use leetspeak and illustrations to attract followers? These are just glimpses into how businesses have embraced and are thriving on social platforms. With more than four billion users online, companies are increasingly prioritizing social media marketing and seeking new ways to promote their brands and products. Here are 7 tips for social media marketing to stir your creative juices for more innovative ideas of your own.
1. Your Audience Needs are Your Content Clues
To build real engagement and loyalty, give your audience what they need. Take TikTok for example. Viral marketing campaigns have created a new and exciting culture for users seeking to be entertained and educated. Language learning app Duolingo, with 1.5M+ followers and a total of 23.3M+ likes, exudes fun on every social post. The company launched an app install campaign with the message "Speaking English Doesn't Cost" by using its owl mascot to teach the meaning of popular hashtags like #fy, #trend, #stitch, and #cringe, and invited the audience to "install now." The owl's fun lessons helped users and also helped the company drive attention, engagement, and resulted in impressive downloads.
2. Illustrate Your Brand's Story
Don't just opt for generic product or stock photos (we know, that's easy). While they have a place, they can make your brand look just plain boring on social media if used too frequently. Try incorporating illustrations into your brand's storytelling – it can make an impactful and memorable impression. For SKC client Taiwan Excellence (TE) and its award-winning gaming brand MSI, we illuminated the brand with a pixel art illustration — it was as if a gamer was immersed in his gaming character at war next to him! This illustration went viral, reaching over 100,000 people. For TE brand Monte Fino Yachts, employing vector art technique, we painted a beautiful picture of friends enjoying the summer afternoon on this luxurious yacht with details of the exterior that it's known for. Illustrations allow your audiences to engage in ways regular photography can't.
3. Embrace Your Imperfections
Failure, mistakes, mishaps — they all play a vital role in our lives. Embracing them can empower your business. If you got a weird email from HBO Max last year, you're not alone. In June 2021, HBO Max, the streaming service confirmed an email with the subject line "Integration Test Email #1" went out to a sizable portion of their subscriber base by mistake. Then, via Twitter, HBO Max actually blamed it on the intern, saying, "We mistakenly sent out an empty test email to a portion of our HBO Max mailing list this evening. We apologize for the inconvenience, and as the jokes pile in, yes, it was the intern. No, really. And we're helping them through it." Twitter users around the world started sharing their work horror stories with the mysterious employee, using #DearIntern to revel in their own embarrassment and offer what they learned from their cringe-worthy experiences.
4. Turn Haters into Promoters
This isn't a trick you'll find in the books, but it works. Use negative reviews to your advantage. Snowbird Ski Resort – in 2017, this ski resort turned their one-star reviews into a five-star ad campaign. The campaign was called: The most misunderstood ski resort in the world. The cold hard takeaway here is that negative reviews don't always have to be bad.
5. Turn Misfortune into Opportunities
While we're grateful that 2020 is behind us, this list wouldn't be complete without at least one honorable mention from the pandemic year. When COVID-19 started, the food and beverage industry were impacted heavily along with service staff. Miller Lite turned lemons into lemonade. They created and donated to a #VirtualTipJar to help those who had lost their service industry jobs during the lockdowns. They posted their #VirtualTipJar on social media to share with those who needed help on how they could apply and request donations from fans. The best part? The movement didn't end with Miller Lite. Soon, other cities, businesses, individuals, and organizations jumped on board the hashtag and used it to set up their own #VirtualTipJars.
6. Be Authentic, Be Yourself
Let your brand image shine through your communication. Leetspeak's spelling modification and novel grammar have always been a part of internet communication. Perfectly-curated content is not easily welcomed in personal space by the audience and social media is a personal space for many. Rub some of the polish off, especially if you are marketing to Gen Z and Millennials, and they will likely trust your brand image more if you are relatable. Many brands are already implementing this strategy on Twitter: Netflix, Wendy's, and Merriam-Webster to name a few. You will often find Netflix making fun of themselves like in this tweet where they are poking fun at their platform (in a fictional voice) asking their audience if they are still watching because they have been watching something for too long. Wendy's is another big name owning the Twitter game. In this tweet, a tweeps asked Wendy's "where the closest McDonald's", to which Wendy's responded with an image attachment of a trash can. No one is safe when Wendy's serves up epic burns like that!
7. Creativity is King
At the end of the day, all we really need is a creative idea to put our brand out there. Here's one we give props to FairMeadow, a startup that provides subscription laundry services, shows us how a boring statistical fact can birth a creative idea. "70% of YouTube users watch how-to videos to learn something new" - Most users click "skip" in the ad roll to quickly jump to their content. What if you use these 5–10 seconds productively?! FairMeadow used this 5-10 second window to create a quick gif video of how to tie a tie in 3 easy steps, followed by the ad message: "Now you know how to tie a tie, and we know how to keep it clean. FairMeadow."
At SKC, we believe that imagination is one of the most effective drivers of business growth. With the help of fresh and innovative ideas, you can achieve virality on digital platforms — intrigue, provoke, humor, and upset users. That's all part of marketing, PR, and growth. Need help strategizing social media campaigns for your business? Reach out to SKC for a complimentary consultation.