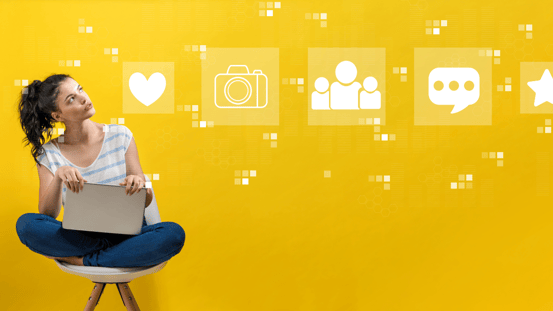 "Death of Mr. Peanut," a 2020 Planters campaign, is a great example of social media success. It began with a tweet: It is with heavy hearts that we confirm that Mr. Peanut has died at 104. In the ultimate selfless act, he sacrificed himself to save his friends when they needed him most. Please pay your respects with #RIPeanut. Within hours, even other brands like Dr. Pepper were spreading the hashtag, and the campaign quickly became a viral sensation. Planters later revealed that Mr. Peanut was reborn as a Baby Nut, and now tweets from the Peanut Jr account.
Planters' viral sensation and marketing prowess has continued to this day, where it has leveraged social media to engage and build followers and customers. Here are 6 ways social media can bolster your brand:
1. Increase Brand Awareness
Social Media is the fastest way to grow your brand's awareness. . With millions of people using Facebook, Twitter, Instagram, Tik Tok, and more daily, many brands are recognizing the power of social media. One example is well known computer giant ASUS. They leverage social media to share updates on their products, events, and even fun host contests, and have built an impressive fan base of 3 million followers on Instagram alone!
2. Increase Website Traffic
With the use of social media comes an increase in website traffic. When someone sees something that they're interested in, they're more likely to go to the source — your website! Showing off your products and what they can do makes it more likely that consumers are going to investigate your brand, and thus bring themselves to your website. This can introduce them to even more of your brand and bring forth a positive interaction.
3. Generate Leads
You must catch your audience's eye, and you can't do that if your brand isn't being seen by the world. Social Media allows you to get that attention and bring in the leads needed to grow. With hundreds of brands being fed to consumers daily through commercials, and word of mouth, social media is vital for getting their attention.
4. Partner with Influencers
Influencers on social media have some of the largest audiences, and what better way to promote your brand than to partner up with them. They give warm introductions about you and your products with unboxings and promotions, and in return bring in more leads, fans, and future customers for your brand.
5. Promote Content
Content is important when it comes to social media. Having social media is not enough, you need to post interesting and eye-catching content to generate interest. Posting attractive photos and videos of your brand will garner more attention. This is also where influencers can come in handy; making statements like "This influencer supports our brand" after a partnership can draw more attention.
6. Boost Sales
Sales and retention are the end goal for your brand, and social media has been shown to bring in more sales than brands who don't use social media at all. The increase of an audience no doubt increases your sales!
All companies, no matter how big or small can benefit from employing social media. Whether you want to generate traffic, leads, or loyalty, social media can help your business reach new heights.
Would you like to develop social media strategies to help grow your company? Contact SKC for complimentary advice.