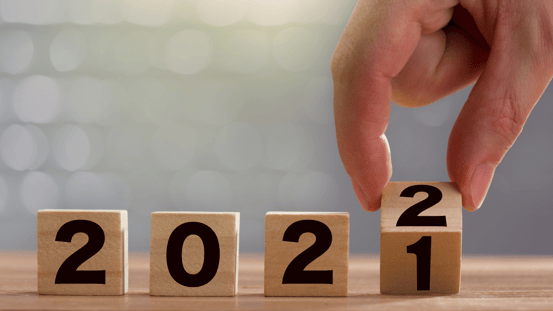 2021 brought us lessons of growth, resilience, and transformation as we conquered the challenges of a disruptive year. Now, it's time to turn the calendar to a fresh page and begin anew. While the future remains unclear, one thing we can predict is that public relations and marketing will continue to change. What will 2022 bring? Here are six trends to consider and potentially leverage for your company:
1. Blurred Lines Between Marketing & PR
The lines between marketing and PR continually blur as technology, consumer media habits and the news landscape shift before our eyes. But don't fight it – embrace it! These traditionally separate industries should complement each other, not compete. Dig into the digital marketing playbook to make PR go further. If you've secured a press hit or interview, published a killer case study, or more, repurpose those hard-earned wins on other channels with digital marketing expertise – then gather data to improve your storytelling and content creation efforts. In the end, what matters most is that you can successfully convey critical messages to your target audience.
2. Get Comfortable with the Digital World
The change and instability of 2021 is here to stay, with traditional norms being overturned permanently. As our lives become increasingly digital, hybrid work environments and growing demand for online content will continue to dominate. What does this mean for strategic communicators? It's time to get comfortable in the digital world. Lean into digital-first outlets for coverage, leverage virtual events and video interviews, and – perhaps most importantly – take advantage of digital marketing tools (if you haven't already). Advanced platforms, such as HubSpot's Marketing Hub, can help you target the right content to the right people at just the right time without being intrusive or overwhelming.
3.

Short Attention Spans, Shorter Content
Algorithms increasingly drive every aspect of digital marketing – from social media newsfeeds to display ads, social ads, search engine optimization (SEO), and even email. Nowhere is this more evident than TikTok, which has pushed social media away from curated photo grids and towards bite-sized videos. Other platforms have quickly jumped on board, with Instagram launching "Reels" and YouTube embracing "Shorts." As Marketing Dive notes, "Consumer appetite is pushing for snappy, entertaining video as an increasingly core component of brands' social strategy."
4. Ride the (Micro) Influencer Wave
Influencer content is heating up, and in 2022 micro-influencers will take a larger step into the spotlight. These content creators may attract smaller audiences than top-tier social media celebrities – typically averaging around 10,000-50,000 followers – but their audiences are more engaged, helping them dominate the influencer industry. In fact, micro-influencers accounted for 89% of influencer content in 2020, 91% in 2021, and are showing no signs of slowing down. They're the perfect choice to get the most bang for your buck in the new year and beyond.
5. What Do You Stand For?
2021 was proof that branding is at the forefront of everyone's mind – whether or not they recognize it. How companies have handled the pandemic – both positively and negatively – was all over the news. As the "Great Resignation" continues to impact hiring, building a solid corporate brand through diversity, equity and inclusion (DEI), corporate social responsibility (CSR), and more will be crucial to attracting and retaining top talent. It's time to invest not just in branding your products or services, but your company culture and values as well.
6. Meet the Metaverse
In 2021, the company formerly known as Facebook announced its new name – Meta. While the jury's still out on this interesting rebrand, it's already clear that the rise of the metaverse is just beginning. As major companies – think Apple, Microsoft, Snapchat and, of course, Meta – pour more resources into the metaverse, AR/VR technology will soar and inevitably reshape the digital marketing world. The brands that get there first will be in the best position to thrive in this new, virtual world.
So, there you have it: your handy guide to the top PR and marketing trends for 2022. They're impossible to overlook if you're serious about taking your business to new heights. The Greek philosopher Heraclitus once said, "change is the only constant," and at SKC, we agree – and also say that "change is the only way to grow."

Need advice on how to best leverage these trends in 2022? Schedule a complimentary consultation with our team: